The Pigeon Creek Shakespeare Company brings Shakespeare's comedy of magic and confused love to Dog Story, April 17-20 and 24-27. Thursdays, Fridays and Saturdays at 8pm, Sundays at 3pm.
A Midsummer Night's Dream features four Athenian lovers and a band of amateur actors who get more than they bargained for when they venture into the woods outside of Athens.  When these human characters encounter a group of mischievous fairies and feel the effects of fairy magic, hilarity ensues.  The cast of this production features Steven Anderson, Kathleen Bode, Antonio Copeland, Kimi Griggs, Amanda Heeren, Janelle Mahlmann, Chad Marriott, Kristin Ripley, Janna Rosenkranz, Sarah Stark, Brad Sytsma, Kate Tubbs, and Kyle Westmaas.
Production dates are April 17/27. Tickets are $14 / $7 student & senior. More information can be found on the Dog Story Theatre website.
Audition Notice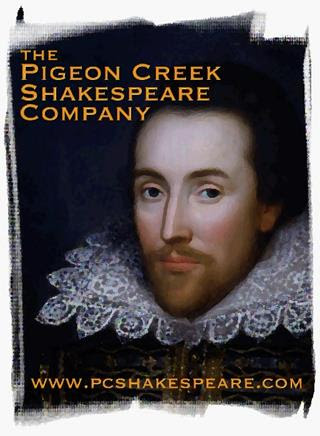 The Pigeon Creek Shakespeare Company is holding auditions for its summer productions of Coriolanus and The Two Gentlemen of Verona on April 22 and 23 at 7 p.m.
Coriolanus will be directed by Dennis Henry.  Dennis holds an MFA in directing from the University at Nebraska Lincoln, and has extensive experience as a Shakespearean actor.  A member of Actors' Equity, he spent eight years touring with the world-renowned American Shakespeare Center.
The Two Gentlemen of Verona will be Pigeon Creek's first ever Workshop Production, designed to provide acting experience and training for actors who may not have previously acted in Shakespearean plays.  College students and others who are eager to get training in Shakespearean text, voice, and movement techniques would be ideal candidates to audition for this production.
Visit Pigeon Creek's website for more information.